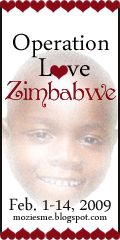 As I mentioned recently, my friend Jane is trying to raise awareness about the situation in Zimbabwe through her Operation Love Zimbabwe week of stories and giveaways
I wanted to share with you the awesome giveaways she is having (even though it lowers my chances of winning those awesome capalunas!) as well as highlight some of the stories she is sharing. First, I'll list the giveaways. If you see something that interests you, head over to her blog, MoziEsme and check it out.
Here are the articles that Jane has shared to help us all understand the story of those who live in the squalor of Zimbabwe.