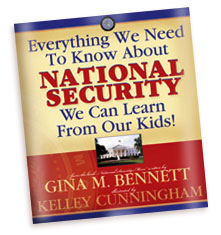 This giveaway is now closed.
I am giving away 1 copy of the children's book
Everything We Need to Know About National Security We Can Learn From Our Kids
along with a matching toddler t-shirt. This book is not available to the public, you can only win it online.
This book is based on the grown up version of
National Security Mom Why Going "Soft" Will Make America Strong.
When I first heard that title, I just knew I was going to hate the book. Why should we be "soft" on national security issues?! Then I realized the author was more interested in moving us out of "reactive mode" then letting terrorists vacation in Hawaii.
The author, Gina Bennett, is a Senior Counterterrorism Analyst and a mother of five. She saw the lessons she was teaching her children and realized they were applicable in broad terms to the war our country is fighting to remain safe and stable. If only we had been able to "clean up our mess," "tell the truth," and "not give into a bully" more often, we might be in a better spot. Ultimately though, if we start doing those things now, we can get to a safer place for everyone.
So, to enter, just leave a comment telling me you want in and a way to contact you in case you win. Easy-peasy. One comment per person. I'll pick a winner on Friday night and will need you to respond to me ASAP.